Our Services
"Over 45 Years Experience"
CERTIFIED SERVICES FOR:
WE ARE INDEPENDENT
The search for the truth has no boundaries. Whatever the findings, the final determination analysis will not be influenced by any outside source.
Click here

to view a sample photo of an RV fire investigation

Click here

to view a sample photo of a Motorcycle Damage investigation

Click here

to view a sample video clip of an Personal Watercraft fire investigation
WHO WE PROVIDE SERVICE FOR:

Major Insurance Companies
Manufacturers
Law Firms
Financial Institutions
Law Enforcement
Private Owners
Public and private corporations

WHAT WE DO:

Certified Appraisals
IRS 8283 Certified Appraisals
Certified Estimates of Damages
Certified Origin & Cause Determinations
Certified Origin & Cause Fire Investigations
Certified Infrared Thermography
Certified Accident Reconstruction
Certified Environmental Industrial Hygiene
Expert Witness Testimony
Appraisal Clause Umpire (deciding judge in a dispute)
Estate appraisal of value
Certified Scale Weighing
Evidence Collection & Storage

SPECIFIC AREAS OF SERVICE:
Appraisal Clause representation. This is where either the insured or the insurance company has exercised the appraisal clause section of the policy and a settlement on value cannot be reached. The representative of the respective party makes the case to the deciding umpire.
Damage Estimate Negotiation. The labor time, and material cost are estimated and then an agreed price is negotiated for the repair.
Determine Responsibility of Damage due to Fire, Mold, Water Infiltration and Mechanical. In this area the investigator performs what is called a "Origin & Cause Determination" in order to find the exact cause of damage, which will determine who is possibly negligent.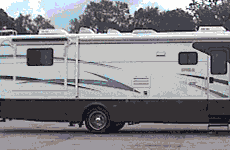 CERTIFIED MOTORHOME/RV & MARINE INFRARED THERMAL IMAGERY… IT'S LIKE DNA…POSITIVE IDENTIFICATION & NON-INTRUSIVE
State of the art Technology. Locate Motorhome/RV & Boat water leaks. Find Motorhome/RV Mold. Detect Motorhome/RV & Boat laminate separation. Discover Motorhome/RV & Boat electrical shorts. Identify Motorhome/RV & Boat structural failures.
Find out more about our Infrared Thermal Imagery Services.

THE PRESIDENT AND SENIOR INVESTIGATOR
TOM BAILEY CFI CT CMI CGC
The investigator has either directly or indirectly been associated with the Recreational Vehicle industry/Motorcycle industry/ and Marine industry since Nineteen Hundred Sixty-four. He has been directly involved in daily retail and wholesale sales, customer service, retail and wholesale parts, finance, and insurance at full line Recreational Vehicle/Motorcycle and Marine dealerships. He has also been an owner, the President, and a corporate advisor to multiple Recreational Vehicle/Motorcycle/Marine dealerships located in Michigan and Florida. He has owned Motorcycle, Snowmobile, and All Terrain Vehicle dealerships, attended their service schools, and raced the aforementioned vehicles professionally. In South Florida he was project director of a twenty-two million dollar development for one of the largest marinas in the state.
He has completed studies in Fire Causes, Fire Forensic Studies, Arson & Fire Investigations, Accident Reconstruction, Insurance Fraud, Appraisal Studies, Marine Theft Prevention & Detection, Tire Failure Studies with Goodyear and Hoosier, and Repair Shop Fraud. He is a Certified Fire Investigator in Fire Investigation: origin and cause, fire chemistry, building construction and private fire protection systems. Other areas of designated certification are Certified Infrared Thermographer (only known Certified Infrared Thermographer for RVs) for the RV & Marine industry and a Marine Investigator conducting investigations in marine fires and suspicious damage or sinkings internationally. He is a certified appraiser specializing in Recreational Vehicle, Motorcycle and Marine appraisals and estimates. He has conducted over 2,000 specialized RV appraisals, 1,200 RV estimates, 2,200 RV Origin & Cause Investigations, 1,200 Marine specialized appraisals, 700 estimates, 1,500 Marine Origin & Cause Investigations, 1,200 Motorcycle appraisals, 750 Motorcycle estimates, 800 Motorcycle Origin & Cause Investigations, 134 Appraisal Clauses, 150 tire failure investigations, 245 Infrared Thermography Examinations, and over 2,500 certified fire investigations worldwide.
He is a lecturer on: Repair Shop Fraud, Detection, and Solutions for Insurance Companies, Good Case Bad Case, High Tech Thermography, Lightning Strikes, The Path to Litigation, Water Intrusion and Mold, Preserving the Fire Scene, Looking for the Origin of the Fire, Ford Fires, Key Pathway, and a member of the International Association of Arson Investigators, Florida Chapter-International Association of Arson Investigators, and international investigator in origin and cause fire investigations for numerous insurance companies, law firms and manufacturers, along with accepted certified appraisals for insurance companies, banks, manufacturers, estates, US District Courts and law enforcement. He publishes a monthly informative newsletter called "Crash" for insurance companies, manufacturers, lawyers and law enforcement.
He is licensed under the Federal Clean Air Act, section 609 for air conditioning, the State of Florida, under the Department of Agriculture for Liquid Petroleum Gas and is a State of Florida licensed Certified Class A General Contractor. Additional professional licenses held are airplane pilot, International Motor Sports Association (IMSA), and F.I.A. International professional race driver. Other licenses previously held are: State of Michigan Real Estate Broker, State of Florida Real Estate Broker, as well as State of Florida Insurance Agent and Mortgage Broker. He has also completed all requirements and education for the certified commercial investment member (CCIM) program of the National Association of Realtors. He is President and Sr. Investigator of RV & Marine Investigations of America, LLC.
ABOUT OUR PROFESSIONALS
Certified Motorhome/RV Appraisals... Certified Motorhome/RV Estimates... Certified Motorhome/RV Origin & Cause Investigations...Certified Motorhome/RV Fires Origin & Cause Investigation
The Motorhome/RV appraiser that handles your case has years of experience (since1964) in establishing the "Fair Market Value" more commonly called "ACV (actual cash value)". The Motorhome/RV appraiser researches the present market conditions and comparable RVs in order to establish the true estimated value. It is the responsibility of our Motorhome/RV investigator to seek out the truth in the final determination of a Motorhome/RV appraisal report, Motorhome/RV estimate, or Motorhome/RV investigation relative to an "origin & cause report." Every associate has had "hands on" experience in their respected field. Our Motorhome/RV estimators have written hundreds of Motorhome/RV estimates and all have either owned Motorhome/RV dealerships or been directly involved in the daily operation of dealerships. Whether your need is for a Motorhome/RV appraisal, Motorhome/RV estimate or Motorhome/RV investigation to determine the "origin & cause", of the damage, we can handle the assigned task.
Certified Marine/Boat Appraisals... Certified Marine/Boat Estimates... Certified Marine Origin & Cause Investigations...Certified Marine/Boat Fires Origin & Cause Investigation
The boat appraiser, more commonly called the marine appraiser, is highly knowledgeable in a wide range of marine craft. The marine appraiser inspects the craft for visible, hidden damage and overall condition, as well as sea worthiness. The marine appraiser researches the current market conditions and selling prices of comparable boats and only after an extensive investigation is the boat appraisal finalized. When a marine estimate is required, the marine estimator writes his or her own boat estimate after examining the boat for all alleged damage. The marine estimate is written with a realistic cost of parts and a reasonable estimate of labor time. Our Certified Marine Investigators search for the hidden truth when it comes to questionable damage or loss. The Certified Marine Investigator has the responsibility of writing a "origin and cause " report that can withstand the test of the courts. Whether you require a marine appraisal, marine estimate or Certified Marine Investigation in order to determine the "origin & cause" of the boat damage, let us assist you.
Certified Motorcycle Appraisals... Certified Motorcycle Estimates... Certified Motorcycle Origin & Cause Investigations...Certified Motorcycle Fires Origin & Cause Investigation
Our motorcycle appraiser, motorcycle estimator and motorcycle investigator has experience dating back to 1963. With experience in a wide range of motorcycles, our motorcycle appraiser has established values on stolen and destroyed motorcycles. Our certified motorcycle appraisals have stood the test of time not only privately, but also in litigation. If a motorcycle estimate is required in a dispute, or if an insurance company wants an impartial and accurate estimate of damage, our motorcycle estimator can provide a clear and concise motorcycle estimate of damage. When there is a question as to how or why something was damaged, there may be a need for one of our motorcycle investigators. A motorcycle investigation with a "origin & cause" report can determine if possible negligence was present. Whether you need a motorcycle investigator, motorcycle estimator or motorcycle investigator, we will be able to assist you in all your needs.
CERTIFIED INFRARED THERMOGRAPHY ANALYSIS REPORTS:
The Certified Infrared Thermography Analysis will definitively provide you with a non-intrusive determination of finding whether it is structural failure, laminate separation, electrical overheating, water intrusion, mold, and in many other specialized areas. We use only the most advance equipment. Please visit the infrared photo gallery and our certified infrared thermography page.
CERTIFIED ACCIDENT RECONSTRUCTION ANALYSIS REPORTS:
Our certified accident reconstruction expert, and author is able to assist you in whatever area you may require an accident reconstruction…whether it is an automobile, truck, bus, boat or other moving object he will be able to fully accommodate all your needs. Please visit the accident reconstruction photo gallery and our certified accident reconstruction page.
CERTIFIED ENVIRONMENTAL INDUSTRIAL HYGIENIST ANALYSIS REPORTS:
Our Certified Environmental Industrial Hygienist was responsible for NASA's space shuttle employee safety for many years and can provide environmental evaluation determination for all your needs. Whether it be for Motorhome/RV Formaldehyde issues, manufacturer supplied chemicals, breathable or contact contaminates he is highly qualified to serve your needs. Please visit the environmental analysis photo gallery and our certified environmental analysis page.
OUR DETAILED ANALYSIS REPORTS:
The reports are a detailed analysis, which provides a professional opinion as to the fair market value in an appraisal, or a part-by-part description of damage on an estimate, or where negligence is determined in a origin & cause determination, and if the environment is safe in a vehicle or boat.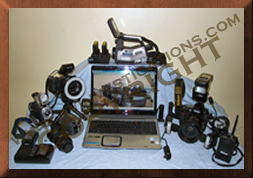 OUR EQUIPMENT:
We use the highest professional Nikon D3 camera (exact GPS latitude/longitude, elevation, and the direction the photograph was taken is made part of the photo) and Sony cameras on every report, and also provide a complete detailed video of the investigation on all origin & cause determinations. For our Certified Infrared Thermography we use the same professional thermography camera as NASA and the DOE uses, the Flir Professional P-65. We also provide fiber optic forensic exploration photography that interfaces with all our photographic equipment.
New!
You can now view an extensive gallery of photographs illustrating the variety of cases handled by
RV & Marine Investigations of America, LLC.
SERVICE AREAS:
Throughout the United States, and abroad.
Contact us today for more information, or view our informative Newsletter.